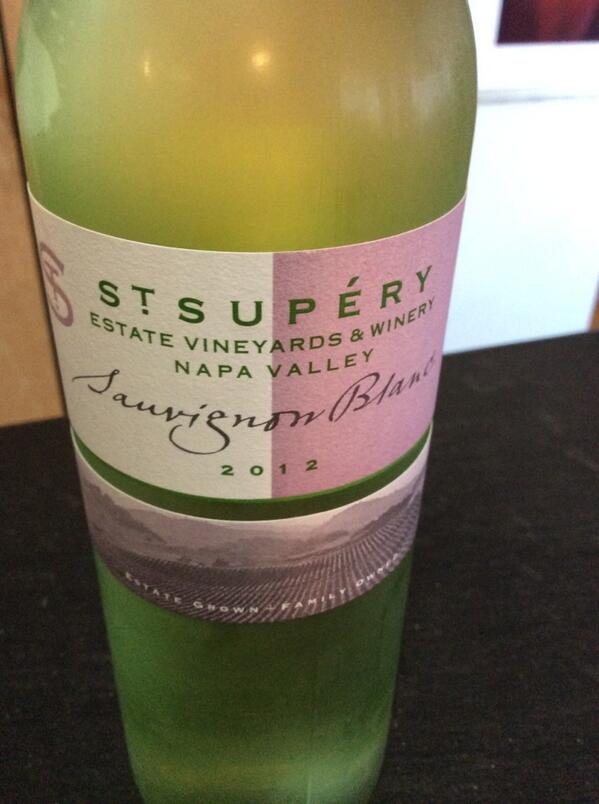 I opened a bottle of  St. Supéry 2012 Estate Sauvignon Blanc this past Memorial Day weekend.
St. Supery is a family owned winery in the Napa Valley. They have two vineyards—the Rutherford property where they grow cabernet sauvignon and the Dollarhide Ranch where they grow Bordeaux grape varieties particularly cabernet sauvignon and sauvignon blanc. The "Estate" Sauvignon Blanc is their entry level sauvignon blanc. It is made from 100% sauvignon blanc grapes and there is no oak contact—fermentation takes place in stainless steel tanks. They also make a sauvignon blanc labelled "Dollarhide Estate"—that one is a little pricier and sees some oak aging.
The Estate wine was delicious—a crisp white wine which was perfect for a warm afternoon. There was nice citrus flavor, grapefruit was present but not overpowering and it was complemented by notes of tropical fruits. I noted some herbs and spice, but not cat's pee. The wine had a nice intensity, moderate acidity and 13.5% alcohol.
Sauvignon blanc grapes are also grown in France's Loire Valley (e.g. Sancerre), Bordeaux (usually blended with semillon) and New Zealand.
Robert Parker's Wine Advocate called the St. Supery a big, fruity white displaying lots of exotic melon and buttery citrus notes in a fruit-driven, front end-loaded, light to medium-bodied, clean, pure style. Best drunk over the next several years. (86 points)
Natalie MacLean gave it 90 points and suggests pairing with cheese, shellfish, Caesar salad, and corned beef and cabbage.
The suggested retail price of the wine is $20.00.  It is available at Union Square Wines for that price.  You can also find it at these places.
Most stores seem to be out of the 2012 and are now stocking the 2013.  Sherry Lehmann has the 2013 for $15.95.  K and L Wines has the 2013 for $14.99.